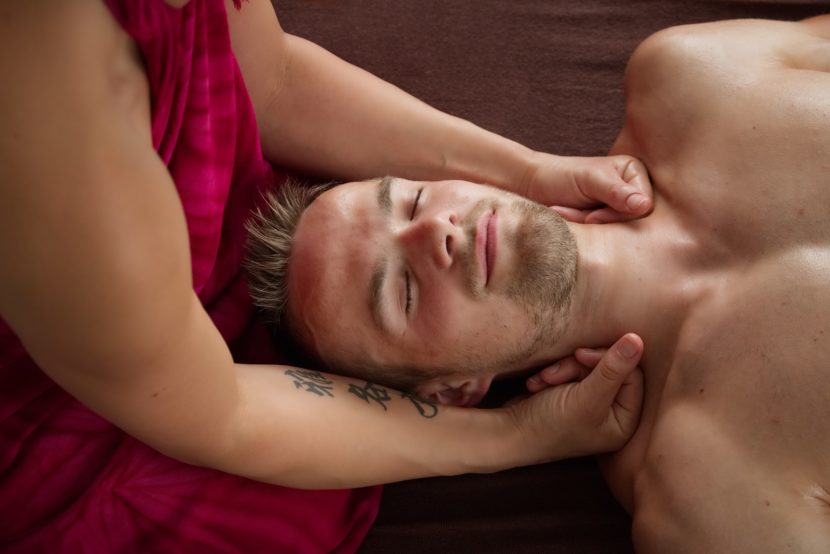 You can get a perfect relaxation and a refreshing dose of new energy during our tantric massage for men. During this massage dedicated only to you, every muscle on your body is  relaxed and you are able to experience the perfect state of open consciousness. At that moment you forget about time and all your thoughts, you exist only here and now. You are dressed in a light sarong, which the masseuse gradually exposes, not sooner than necessary. The masseuse cares for you with deep respect the whole time, touches you gently, using soft objects, nice fur or wet hot towels. Thanks to her feminine intuition, she senses exactly what you need at any given moment of the ritual, whether it's a caress in your beard or a tight hair pull. When massaging with heated oil, your tired muscles can experience stronger touches and strokes to relax and stretch.
Part of the ritual can also be the intimate massage or the massage of the prostate. The massage of the male "G-point" not only brings deep and intense experiences, but also has direct healing effects in preventing prostate cancer or the prostate enlargement and other related erectile dysfunctions.
The whole ritual takes place in an environment of a stylish tantric salon, under the glow of burning candles and relaxing music. It is preceded by an initial tea conversation during which everything will be properly described.
Price of massage:
90 min. – 109 euro
120 min. – 139 euro
150 min. – 170 euro
180 min. – 192 euro
240 min. – 243 euro
Classical tantra massage spiced with light BDSM elements stirs the suppressed energy in your body, warms up tired muscles and helps to find the limits of your perception. During this exciting massage, you can step out of your leading male role for a moment and surrender yourself  to the hands of the masseuse, which is incredibly liberating. Your body tastes stronger and firmer touches. The masseuse uses a whip or leather dents instead of feathers. Everything takes place in a safe environment, with deep respect. An oil massage of the whole body is included, the ritual may also include a massage of intimate parts. The massage is discussed with the masseuse during the initial tea interview.
Price of massage:
90 min. – 109 euro
120 min. – 139 euro
150 min. – 170 euro
Sensual tantra massage performed by two masseuses at the same time is an extraordinary experience. Your body is covered by an endless amount of wonderful touches that your mind is not be able to grasp and totally resigns. This allows you to immerse yourself in meditation and the deeper experience of sensual touches. No place on your body is left behind. You feel like in heaven, completely disconnected from the external reality.
4 hand massage must be ordered in advance.
Price of massage:
90 min. – 174 euro
120 min. – 217 euro
150 min. – 261 euro
180 min. – 300 euro